Lampata Poll Merinos specialise in breeding
large framed, high performing maternal merinos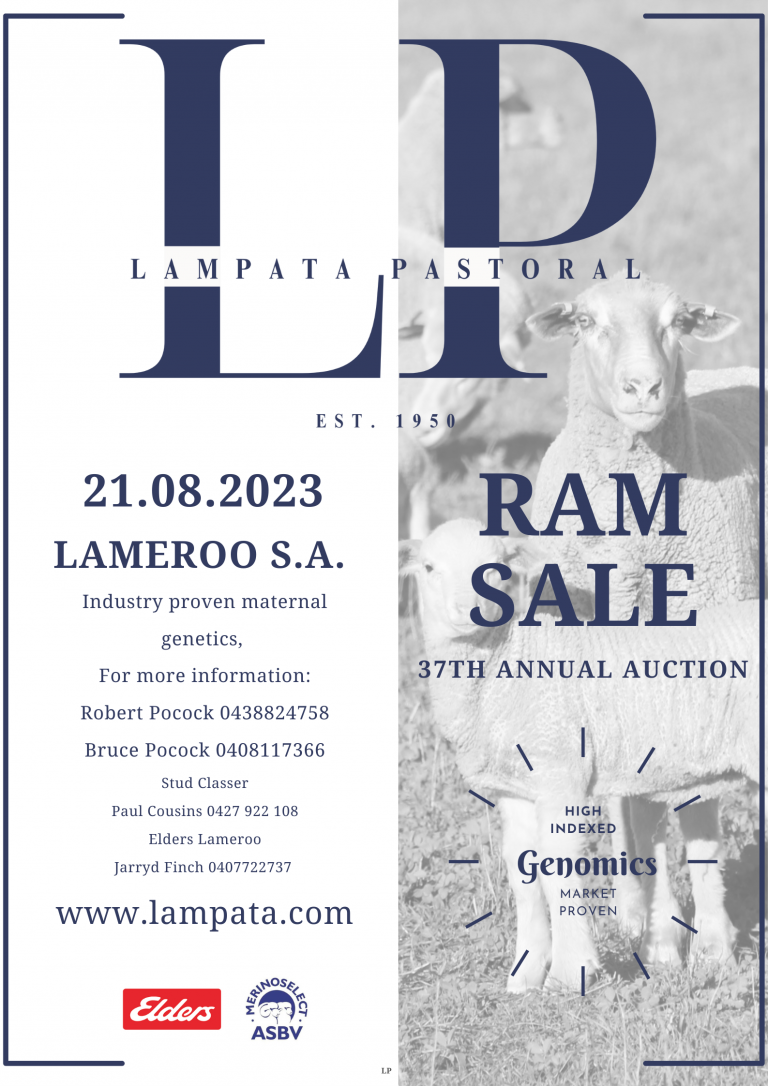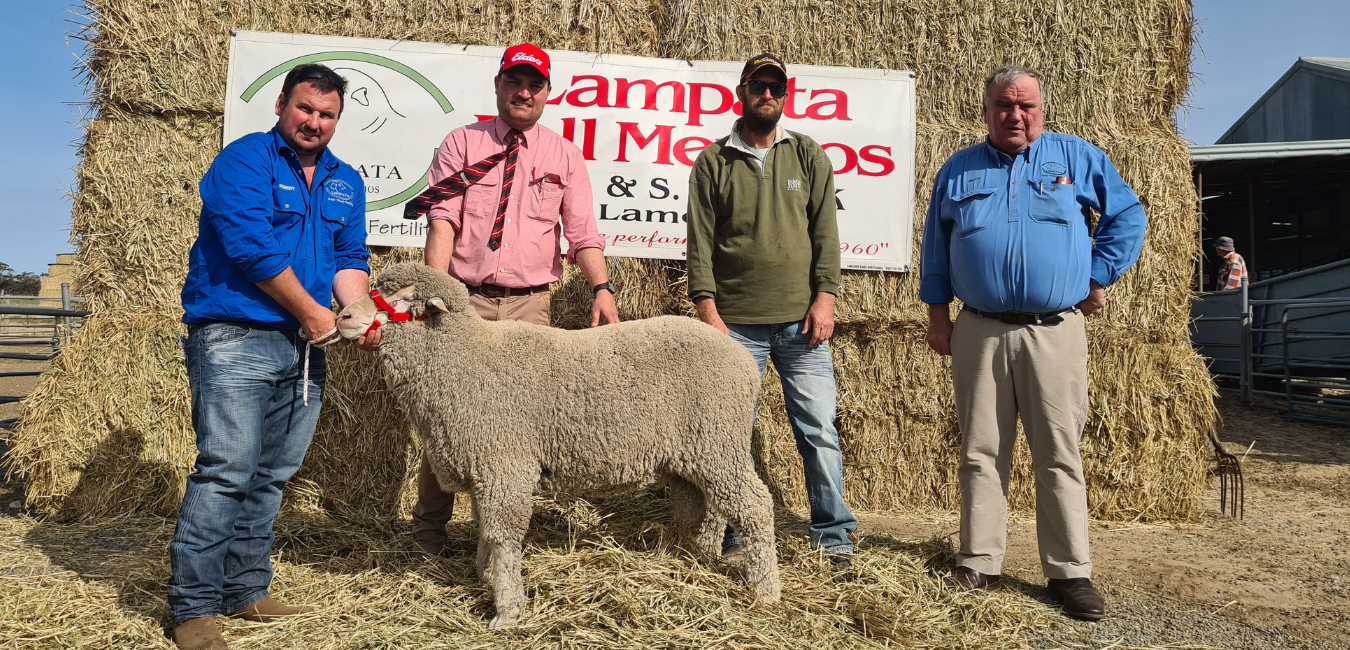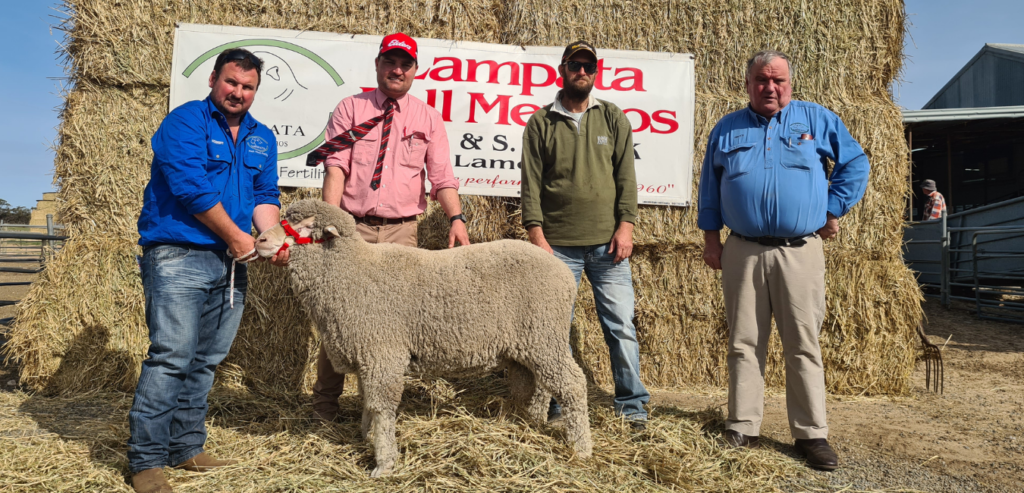 Repeat buyer Jax Joynt, of Meribah near Loxton, has purchased Lampata's top selling ram, for $4100, at its annual sale on Tuesday.
Held among a good crowd, Lampata Poll Merino Stud's – based at Lameroo in the state's South East –  annual auction brought out a number of buyers including many repeat customers.
With a total of 55 rams sold from 76 offered, Lampata Poll Merino Stud sale averaged at $1370/head.  The first 25 rams averaged a great $2100.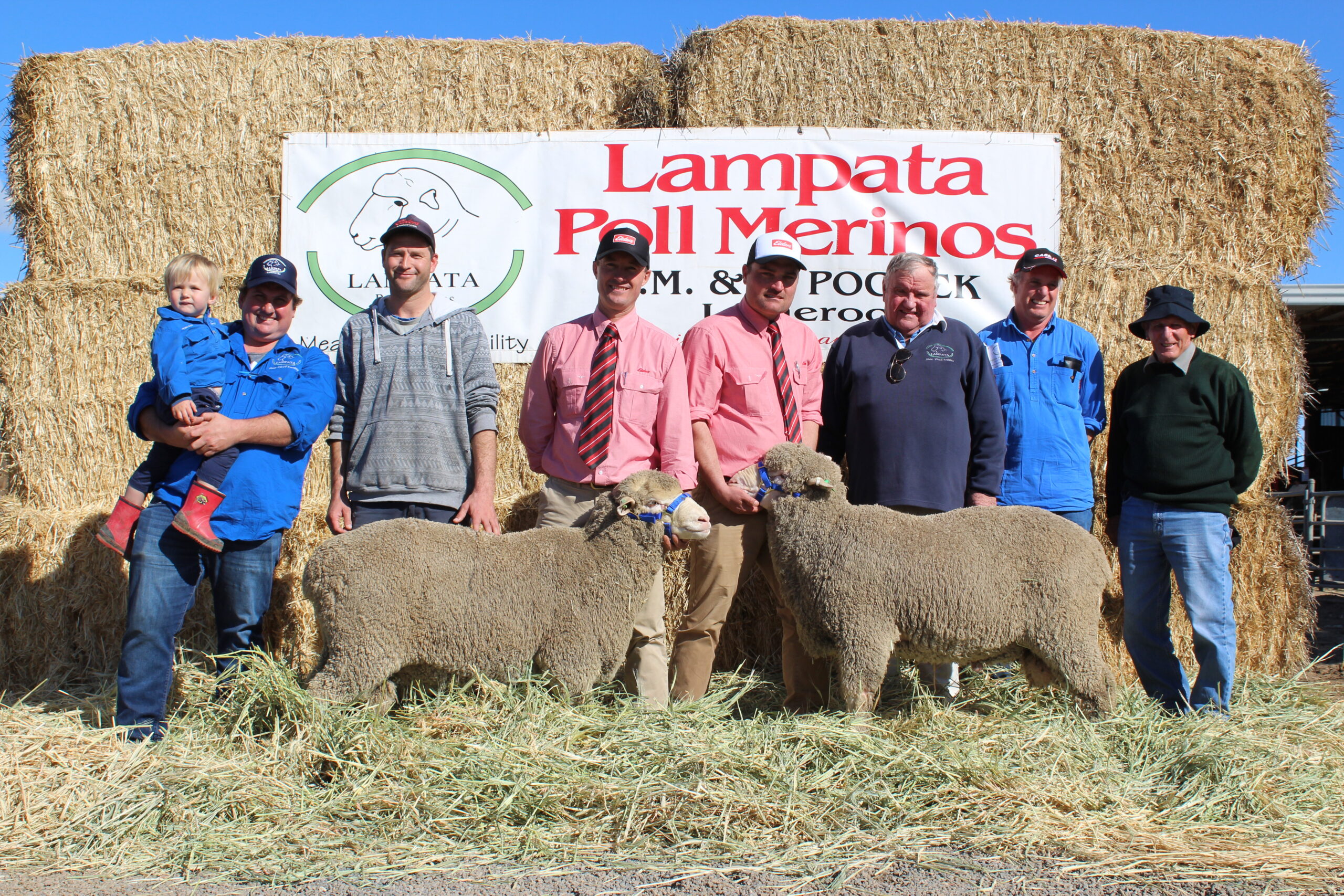 Despite border restrictions impacting interstate clients from attending Lampata Poll Merinos annual on property ram sale, the Pocock family from Lameroo offered 20 more rams in their auction this year with positive results and happy clients.
65 of the 80 rams offered found homes, with the sale peaking at $3200 twice and averaging $1282. The Pocock's line up of rams were significantly 'more forward this year' with 'whiter and freer growing wool' according to Elders Auctioneer, Steve Doecke.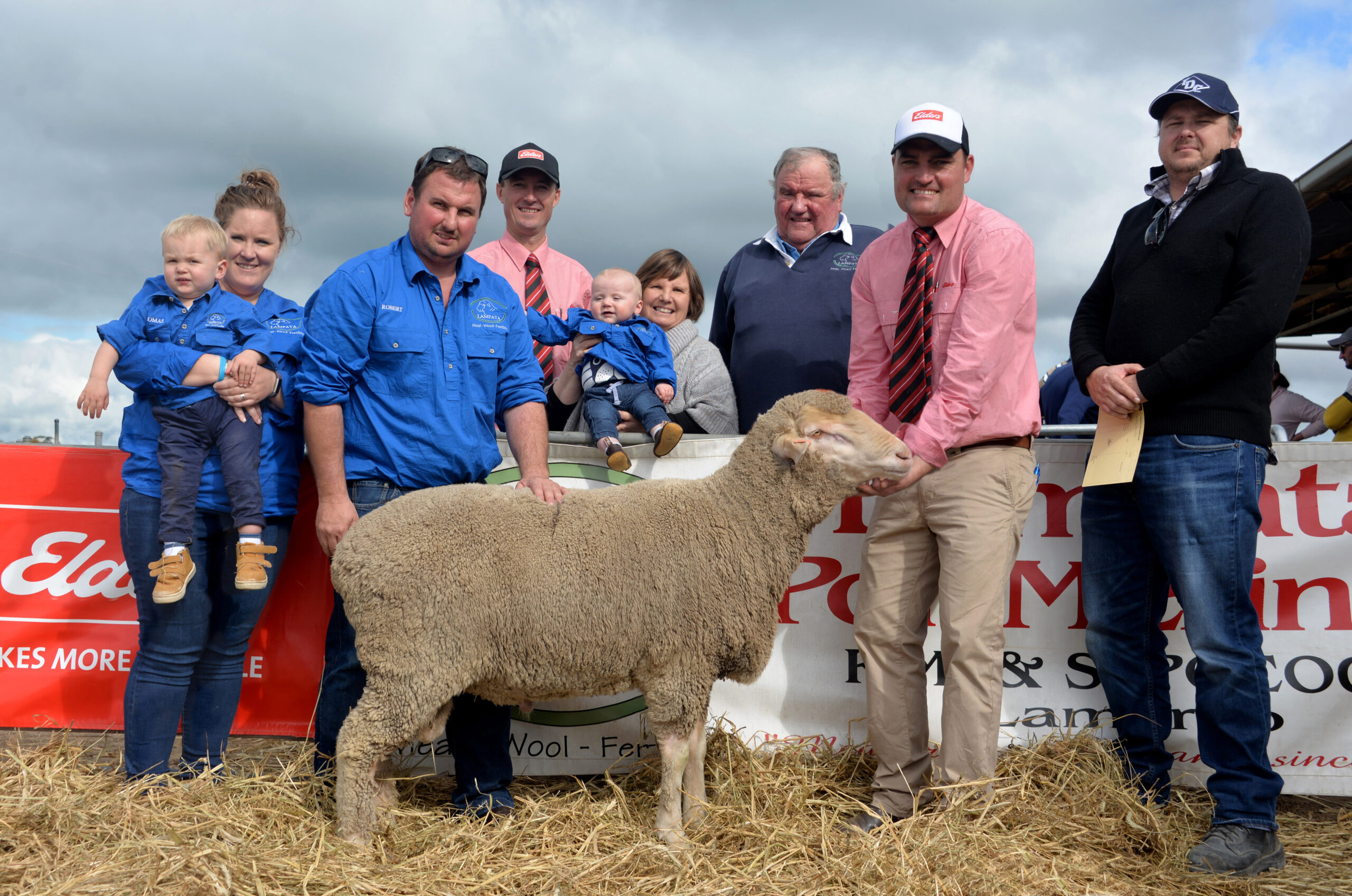 Despite seasonal challenges affecting several of their clients, Bruce, Gaye, Robert and Courtney Pocock managed to lift the top and average prices at their 33rd Lampata Poll Merino ram sale at Lameroo on Tuesday.
Fifty of the 59 rams offered found homes, with the sale peaking at $3500 – $400 more than last year – and averaging $1418, a $49 jump.
The only downside was six less rams cleared due to some longer-term clients unable to operate this year.
The Pococks also faced challenging conditions in the first half of the year, and had been containment feeding all Lampata stock – including the sale rams until just four weeks ago.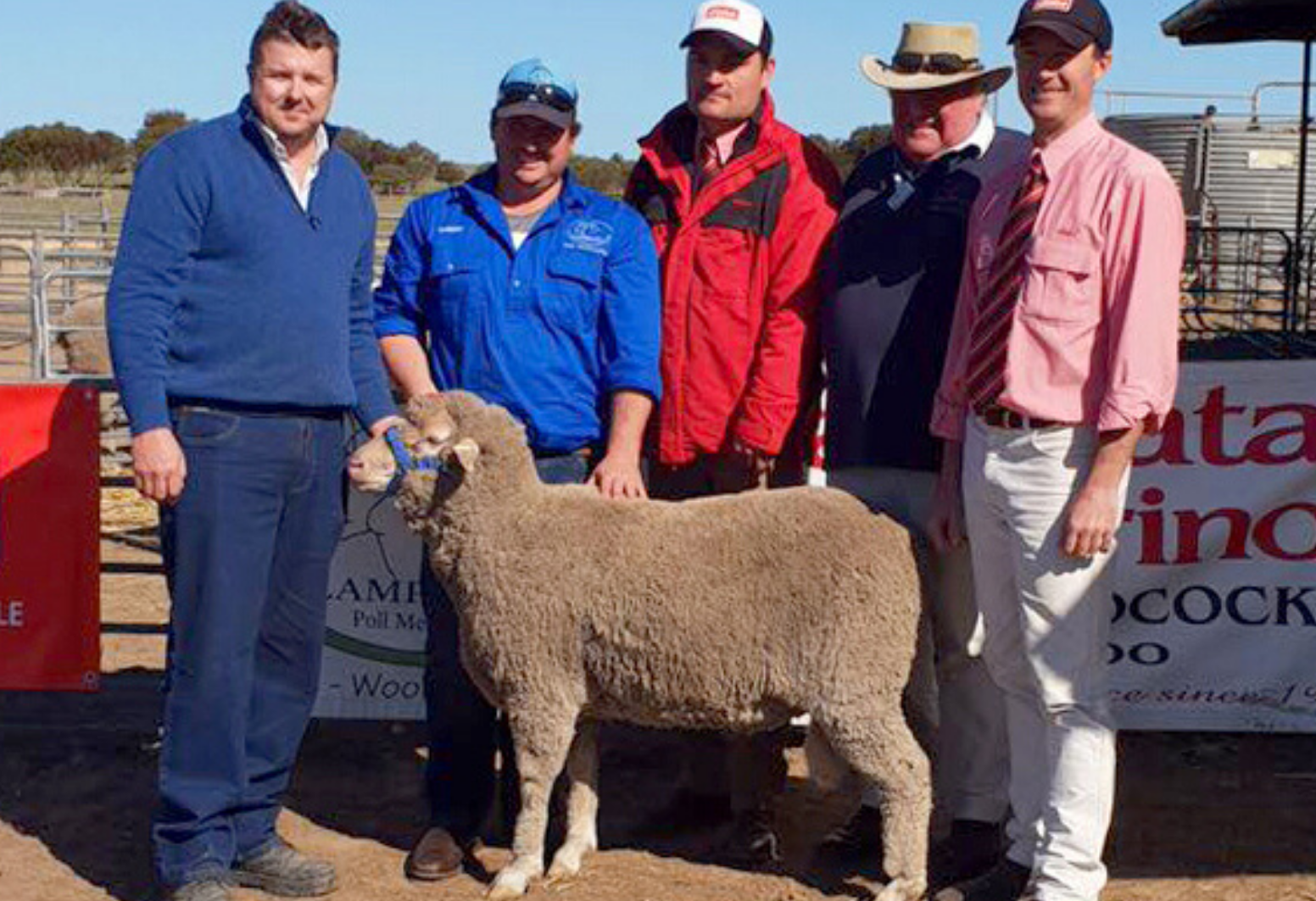 The 2018 Lampata Poll Merino ram sale at Lameroo, saw rams sell to a top of $3100 and achieve a near total clearance for their unique type Poll Merino rams, with selection based on performance for total sheep productivity.
Buyers consistently return for these Lampata rams, with genetics that are very strong in the main profit-making traits of Meat, Wool and Fertility, that the Pocock family have specifically selected for many decades.
The top priced ram was lot 29, Lampata 17172Tw and sold to return buyer, Ben Hunt, Nalang Farms based at Mundulla, who attended the sale with his TDC agent, Murray Jones. This sale topping ram demonstrated doing-ability, boasted by its equal highest Cfat percentage of 121.2, while it was also strong in muscling traits, including an EMD% near the top at 111.1. Nalang Farms bought four rams at an average of $1925, with all their purchases ranking at the top end for eye muscle and fat.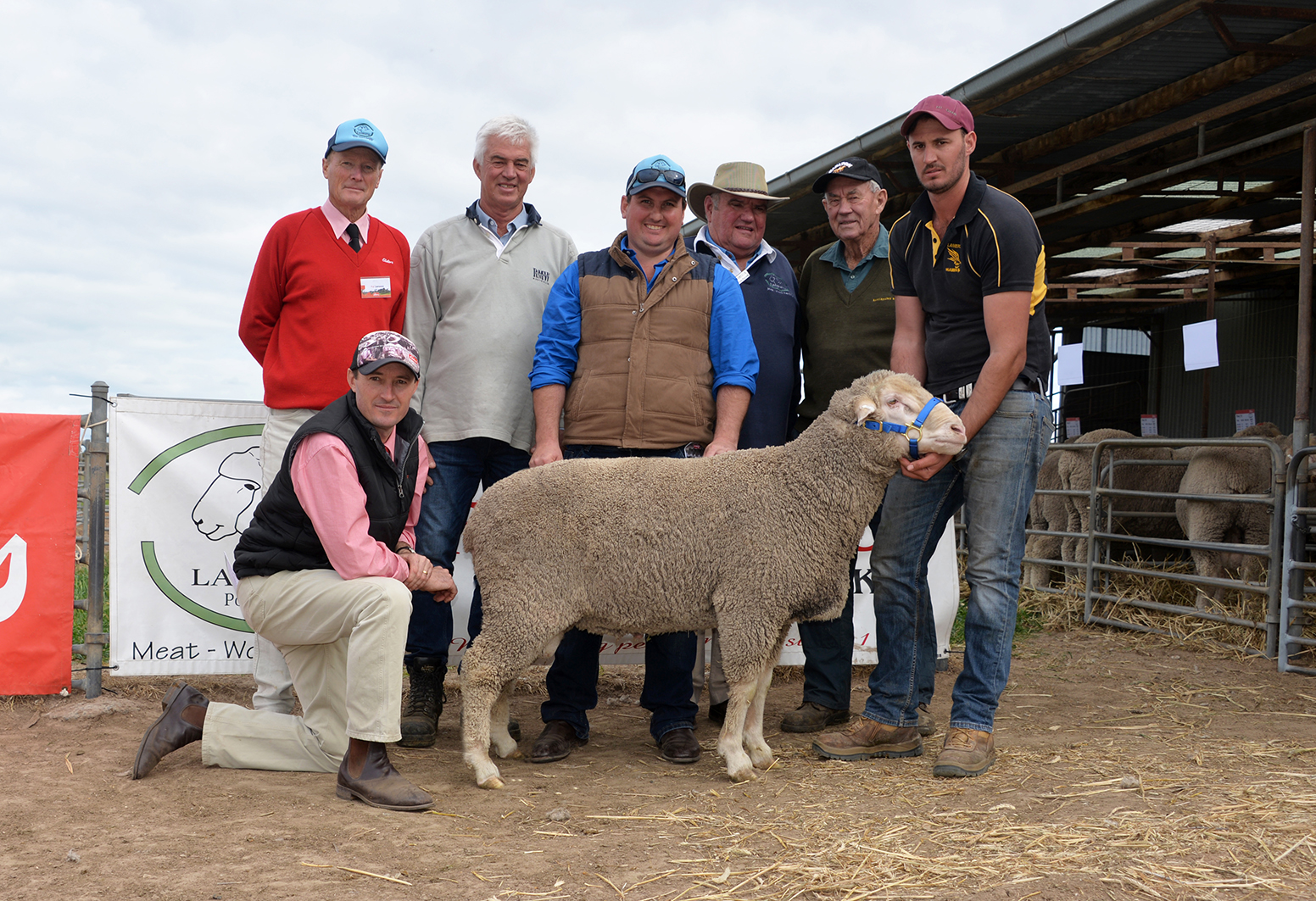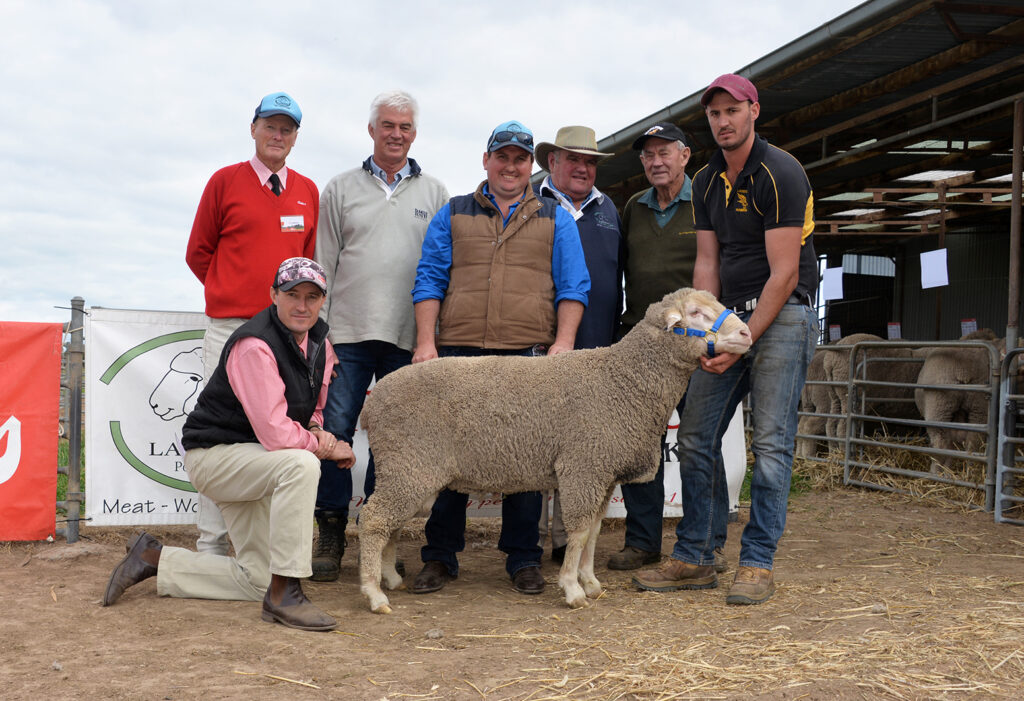 Average and top price records tumbled at Lampata Poll Merino stud's on-property sale for the second consecutive year, with Bruce, Gaye, Robert and Courtney Pocock achieving a full clearance of 60 paddock-run rams at Lameroo on Tuesday last week.
Strong competition from the 23 registered bidders pushed the top price to $4300 – a $300 increase on last year – while the sale average rose by a similar amount to $1551.
The Walker family, Keringa, Lameroo, paid the top price for L16080Tw – a well-balanced, 20.9 micron ram with above-average figures across the board, including +17 for clean fleece weight and +14 for body weight, culminating in a Lampata index of 106.3.
"These genetics have never let us down yet; they give us the wool cut and fast growth to enable us to get our lambs off early and we're already fielding enquiries for this year's wether lambs."
"It was a terrific line-up and although they were not pumped up in the feedlot, that exercise actually enabled the rams to show more expression of the well-embedded genetic qualities for meat and wool production; the key selection points behind over six decades of paddock performance selection undertaken by the Pococks"
"We came over looking for good, big, strong ewes for our prime lamb enterprise and the Lampata ewes stood out as the best in the market so we committed to getting them"
"Looking over the fence, we had seen what Bruce and his father before him had been doing successfully since the 1960's. They got the results and Bruce must be one of the most profitable, efficient and progressive sheep breeders in Australia."
"With our sheep trading enterprise we get to see the stark difference in performance compared with out Lampata blood Merinos. There is very little difference between their best and worst and they are very easy care. They're natural foragers and converters and are also very good maternally. We always get a good lambing percentage and they milk and mother well. The wool clip gives us excellent cash flow and with their excellent staple length we can shear more often and still reach good combing requirements. Their microns are also quite fine for sheep and their body size."
"Our Merino wether lambs were about $20 to $30 behind, but they measure up fairly well. Now I'm just a ridgy didge type of guy, I'm not going to brag, but without any doubt, these Lampata bloodline sheep are very, very good. They are real dual purpose sheep – there is not a fault in them that I can find. The ewes cut about 5.8kg of 69 to 70 percent yielding fleece wool after rearing lambs. They have great fertility, growth, you name it; they've got it. They also have the genetic capacity to go through tough times and we've had a few of them up here, yet they recover so quickly. When the season changes for the better they really blossom."
Keep up to date with the latest news, sales and innovations at Lampata Poll Merinos by joining our mailing list!
Follow us on Social Media!