Lampata Impresses Despite Seasonal Hurdles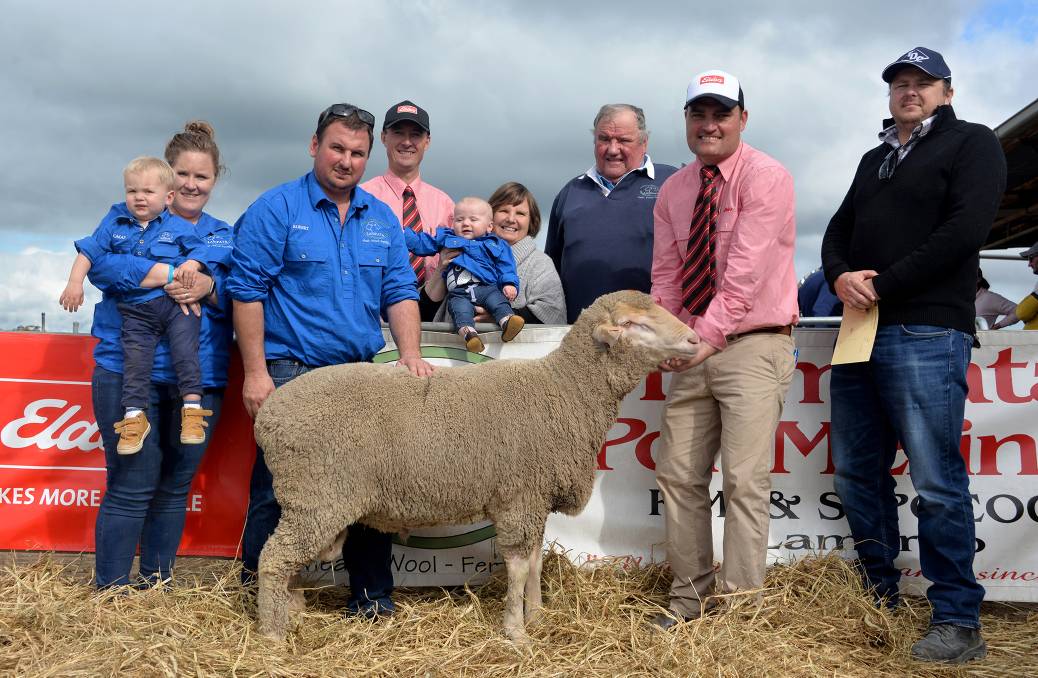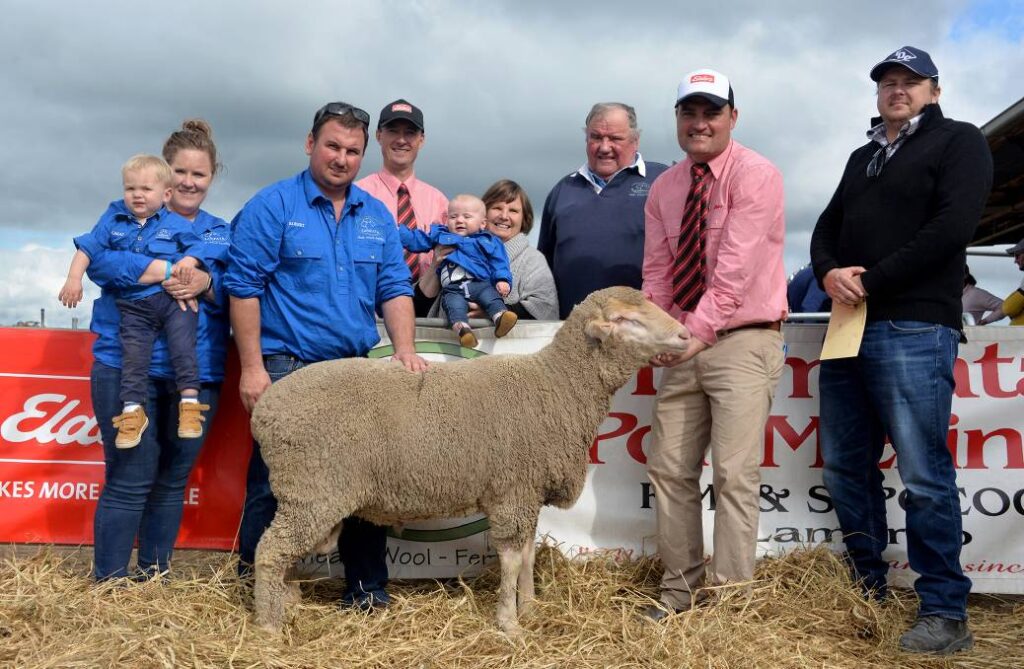 Despite serious seasonal challenges, Bruce, Gaye, Robert and Courtney Pocock presented another top quality draft of their unique dual purpose and performance tested Poll Merino rams for buyer competition on Tuesday August 27that Lameroo.
For their efforts, they were rewarded with their second best average price from 33 annual sales, with 50 of the 59 offered selling to a $3500 top and averaging $1418. This was an increase of $400 in top price and $49 in the sale average from last year and getting back towards their 2017 record sale result. The only downside was six less rams cleared due to some longer-term clients unable to operate this year.
It is no secret that there are many areas of the country that are under severe drought conditions or were until recently. This includes areas where several of Lampata's clients reside, plus the Pococks themselves until early June. The rams were shorn in April and along with all the Lampata stock, they went from bare paddocks and regular dust storms into a survival/maintenance feedlot. The rams were able to come out of that feedlot just four weeks ago after the June rains allowed the pastures and crops to recover magnificently.
Elders auctioneer Steve Doecke said, "It was a terrific line-up and although they were not pumped up in the feedlot, that exercise actually enabled the rams to show more expression of the well embedded genetic qualities for meat and wool production; the key selection points behind over six decades of paddock performance selection undertaken by the Pococks."
"They showed extra muscling and whiter longer stapled wools as a result," he said.
The other key selection trait in the Lampata breeding program is fertility, reflected in 64% of the offering being twins.
Ben Hunt, Nalang Farms, via Bordertown has sought out top Lampata rams for many years now and fully appreciates how they have improved his total sheep productivity and bottom-line profitability.
He purchased three top rams with very determined bidding, including the $3500 top priced ram, Lampata 18289Twin. This big bodied and functional ram, with 20.9 micron and 99.9% comfort factor wool, had a clean fleece weight percentage ranking of 134.6, the third highest in the catalogue, the second highest bodyweight index of 119.0 and the highest percentage index for both fat (128.6%) and eye muscle (116.8%). Its overall index was the second highest at 117.2, just 0.1 behind L18368Twin, also purchased by Ben for $1500.
He said that by using the performance figures and raw data he places selection emphasis on rams that will produce lambs with rapid growth lambs and good carcase yield, along with high fertility and easy care body shape. His three selections were secured at a $2333 average.
Long term supporters of the Pocock family's genetics, Ray and David Elleway again made the long drive from Kielpa on Eyre Peninsula. Although severely challenged climatically over the last two years, they fully appreciate the reliable income stream their sheep enterprise brings them in conjunction with cropping.
Underbidders on the top lot, they purchased six rams to the second top price of $3100 and at a $2017 average. This made them the equal highest volume buyer in the sale. Their top priced lot was L18071Twin that had a great balance of high performance figures culminating in an overall performance index of 113.5, the 4th highest in the offering. Also included in their purchases were the 3rd and 5th highest indexed rams, the latter, L18326 having the highest clean fleece weight ranking of a massive 142.3%, yet they were able to purchase this ram at an average breaking $800.
"We are running 1000 ewes at present, having lightened off our breeding numbers a bit to enable them to be carried through a season that is again showing more signs of disappointment than promise," Ray Elleway said.
"These genetics have never let us down yet; they give us the wool cut and fast growth to enable us to get our lambs off early and we're already fielding enquiries for this year's wether lambs," he added.
Tom Evans, Loxton is experiencing a very marginal season in his area, so was more reserved in his bidding, but still went home with six rams to be the other equal highest volume buyer.
Considering the evenness of quality and reliable performance through the draft, his patience was rewarded when able to secure all six at just $800 each.
Other prominent and repeat buyers amongst the 17 who purchased included Daryl Traeger, Lameroo (four to $1700 ave $1275); Adam Flavel, Jax Joynt, Meribah (four to $2000 ave $1250); David and Paul Wallis, Serviceton, Vic (four to $1500 ave $1050); Ashley Tiller, Pinnaroo (three to $2100 ave $1833); Milton and Andrew Knight, Peake (three to $1600 ave $1767); David Williams, Geranium (three to $1600 ave $1480); Kerry and Trent Walker, Lameroo (three to $1700 ave $1100); and Rodney Day, Lameroo (two to $1900 ave $1700).
Robert Pocock said post sale, "We're pretty happy with that result, especially considering the season leading into here for several of our regular clients. We are certainly delighted with those who were still able to come and purchase."
As a sign of gratitude to their loyal clients, the Pococks gave prizes to the buyers of the top priced ram, the volume buyers, plus two lucky lot numbers. The latter two were presented to the Elleways and Ashley Tiller.
Bruce Pocock added, "It was very hard work getting the rams up in a season that went from atrocious before June to now being very good, but like many areas we are in need of another good rain very soon, as we all know it can go downhill again rapidly."
On the back of early season enquiry, an extra 30 rams were prepared for the mini auction, and despite the good competition from the loyal clients who attended and no apparent drop off in quality from the main auction, only one was sold immediately after the main auction.
Sale Summary 2019 2018
Offered 59 60
Sold 50 56
Top $3500 $3100
Average $1418 $1369
Agents: Elders Lameroo
Auctioneer: Steve Doecke